Make the space where you enjoy your grilled creations as good as the food. Plan your outdoor dining area for maximum comfort, minimum maintenance, and a touch of your style. Create room for food-friendly fun times all summer long.
Take a seat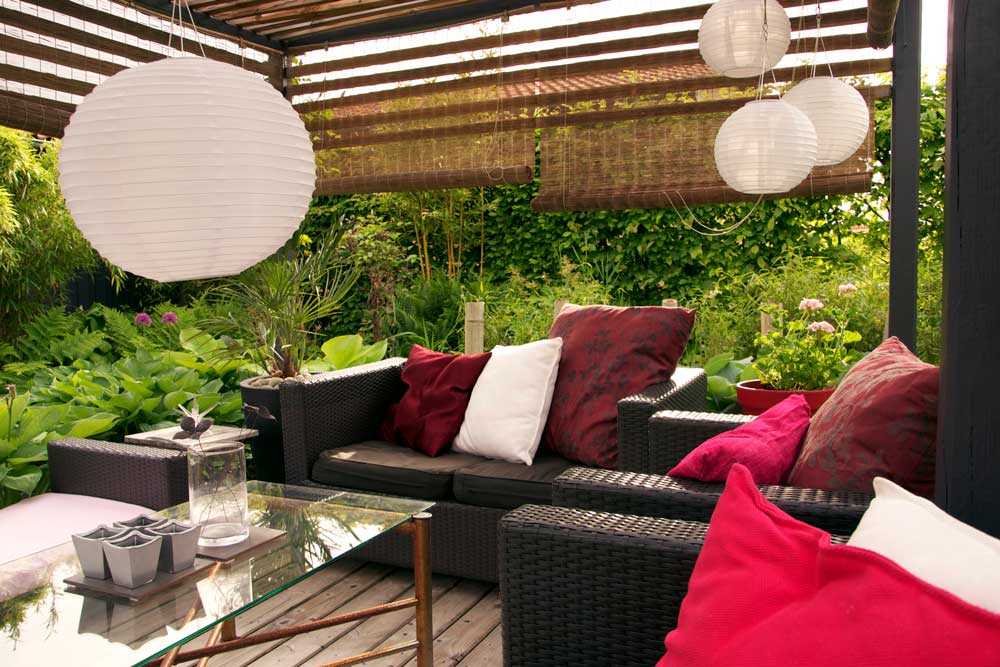 Your biggest investment will be in seating and furniture. You'll want to start with a plan. Do you want to sit around a dining table or prefer a conversation set with chairs, loveseat or couch, and a low table for your food and beverages? What's your available space? It's important to take measurements. Remember to allow room to move between and around your furniture pieces as you arrange them on your lawn.
Material considerations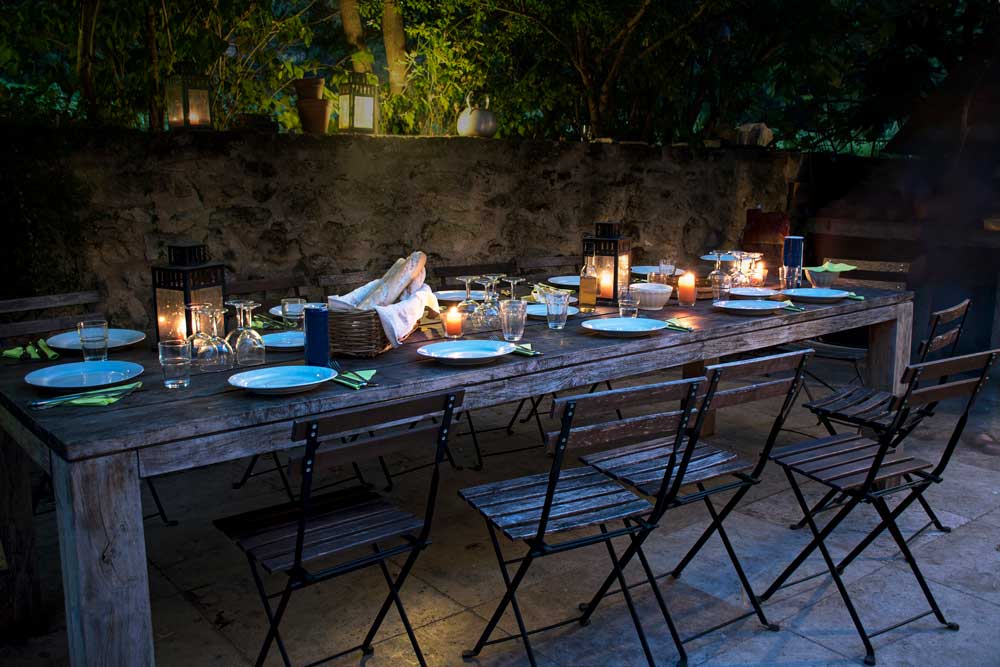 Just like food, furniture relies on ingredients. Different materials used in outdoor furniture construction deliver their own unique benefits. Here's a little to think about when looking at furniture frames.
Wood — natural, sturdy and substantial. It's a renewable resource, too. If you're especially interested in sustainability, search out products certified by the Forest Stewardship Council (FSC).*
Metal — stable, solid and generally weatherproof. Metal curves, so armrests are comfortable and design variations abound.
Wicker and resin weaves — lighter weight for easier moves, traditional patio look. 
Your furniture might come with seat cushions. Or, you could buy them separately, giving you the freedom to pick from a multitude of colors and patterns. Whatever you decide, keep in mind that different fabrics offer different levels of UV protection. The higher price points apply to the cushions with the most protection from the sun; they'll last longer without fading.
Be prepared to measure when you're buying your own cushions. Size up both the seat width and seat depth, plus back height and back width when that applies. Note if the back of the seat is rounded or square. And take measurements for back cushion height from the top of the seat cushion to the top of the frame's backrest — so everything fits and none of the cushions hang over the edge. For loveseats and sofas, measure all the way across the seat and then divide by the number of seats the piece provides to get the width of your individual seat cushions.
Finishing touches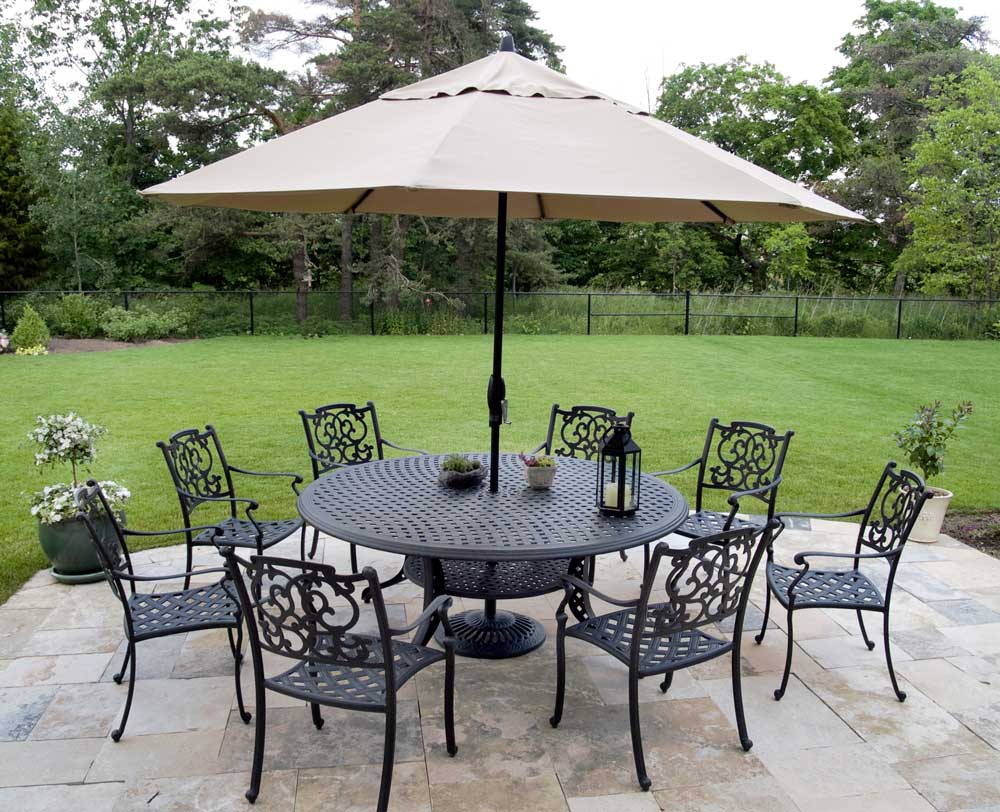 To umbrella or not to umbrella?… Think about how much sun your dining area gets, and whether you're going to use it more in the evening hours, daytime, or a mix.
Outdoor rugs help define your space and add more color. With the growing popularity of this outdoor décor element, you'll find a range of prices and designs in weatherproof, durable materials. Coordinate your rug with the color palette of your seat cushions — and even the colors of the flowers in the surrounding yard.
What to eat in outdoor dining rooms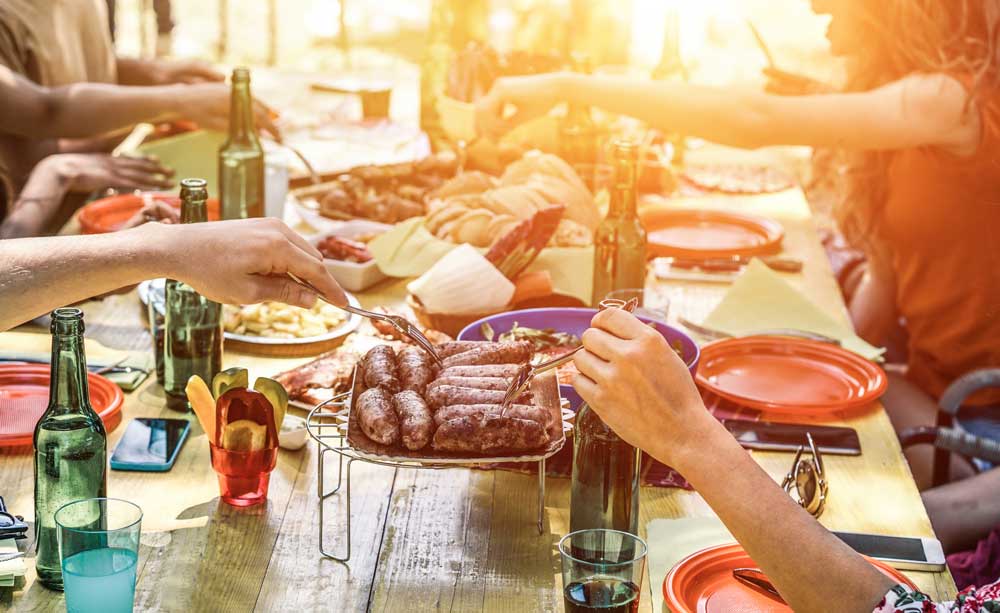 Once you've put together your beautiful outdoor dining room, it's time to think about menus that earn their place in your new space. Here is a selection of great grilled vegetable side dishes to accompany whatever protein you love.
Now all that's left to do is get your dinner invitations out!
*FSC is a not–for–profit organization that ensures wood has been harvested from forests that are responsibly managed, socially beneficial, environmentally appropriate and economically viable. At Griller's Gold, we believe in sustainable sourcing of wood for our all-natural premium BBQ pellets.