Life goals – a weekend where you cook EVERYTHING on the grill.
Breakfast, lunch, and dinner – let's do it. That's what is so versatile about modern pellet grills – they have an automatic start-up, so no sparks, chimneys, fluids, etc. and at the same time they have amazing flavor from the natural hardwoods used to make the pellets.
That said – not all pellets are equal – Griller's Gold, however, are pure, 100% natural hardwood – nothing but amazing taste.
So imagine – it's a three-day weekend like Memorial Day, 4th of July, or Labor Day weekend and the fun starts Friday evening – it's been a big week and you're hungry to tuck into a big 'ol steak for Friday night dinner. With pellet grills, it's super easy to make them spectacular.
Start by buying good quality meat – warehouse clubs like Costco and Sam's are always good choices, as well as your local butcher. Buy the best you can afford – and if you can afford Prime, well, it's the best.
For this Friday night, 3-day weekend dinner, let's get some prime ribeyes, and we're not talking wimpy sandwich steaks but proper, 2" to 2 ½" thick-cut ribeyes on the bone. Some butchers call them "cowboy cut" and if you get them with the extended rib bone, they are called Tomahawk cuts. That said, don't forget … you're paying prime meat prices for that big impressive-looking bone. Thick cut, bone-in Ribeyes without the Tomahawk bone are the best value.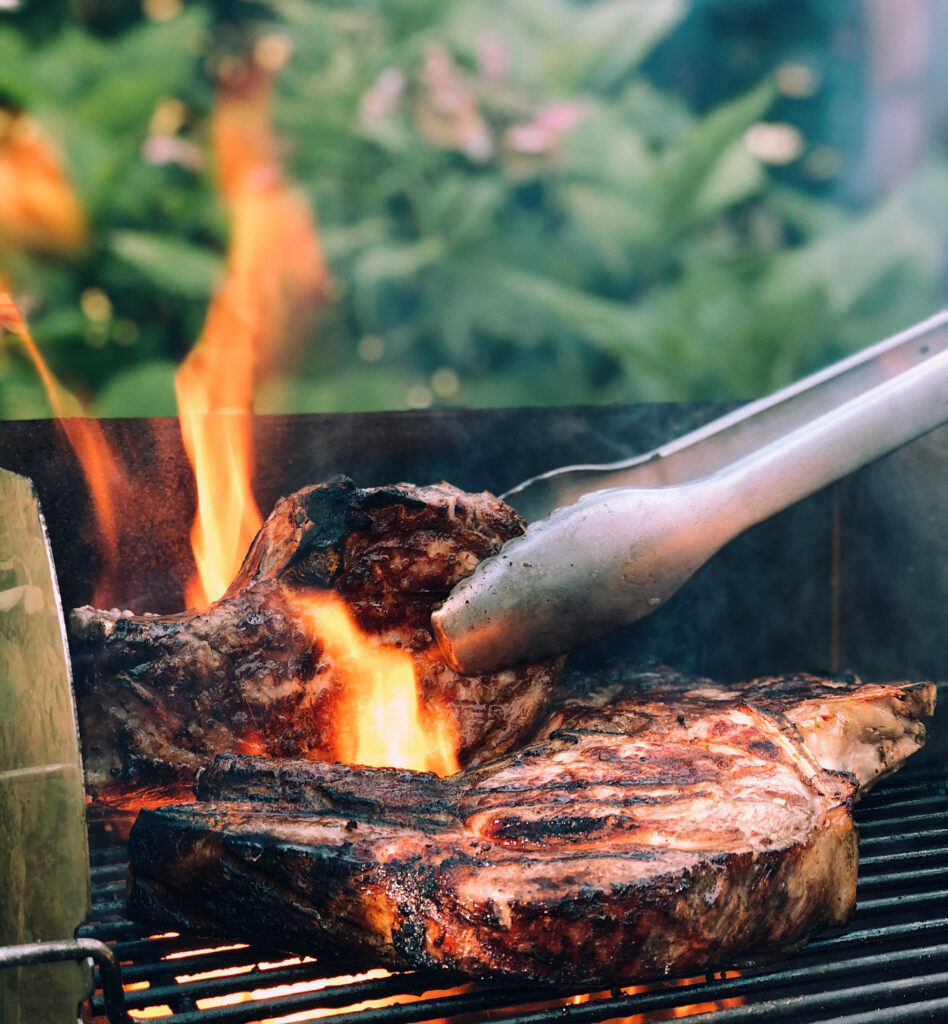 If you've planned ahead, try dry brining them – this is a simple process by which you just cover them with a generous coat of kosher or sea salt – about ½ teaspoon per pound of meat and then leave them unwrapped in the fridge overnight. The salt will leach into the meat and release moisture – this surface moisture loss helps the steak form an amazing crust! And if you didn't plan ahead – even an hour's worth of "dry brining" at room temperature does wonders.
Next, time to build flavor.
Now, there are plenty of folks that say "all you need is salt" – and that's certainly a valid argument. That said, you can also build some very nice flavors in your crust with some simple ingredients. One very tasty rub is from barbecue blogger Meathead Goldwyn and his Amazing Ribs site called "Big Bad Beef Rub" – it's a mix of pepper, garlic, onion, mustard, and chili powders with some sugar and cayenne. Another one is what they call "SGP" which is simple – salt (which you've already done), garlic powder, and pepper. Don't be afraid to experiment!
To do a big thick cut like a thick ribeye right, the "reverse sear" method is the way to go – you cook low and slow to start until the internal temp is just short of your desired doneness, and then either fire up to very hot on your grill, or, our favorite method, move them to a hot cast iron skillet to finish.
After your steaks are seasoned up the way you like them, preheat your pellet grill at 250 degrees loaded with Griller's Gold Competition Blend pellets. (Not grilling on a pellet grill? Check out our blog about how to grill with pellets on any type of grill.) These pellets offer a classic barbecue flavor with a blend of oak, cherry, and hickory hardwoods. For medium-rare reverse sear steaks, you'll want to cook them to about 130 degrees over the low heat – which should take about 45 minutes to an hour for 2 ½" ribeyes.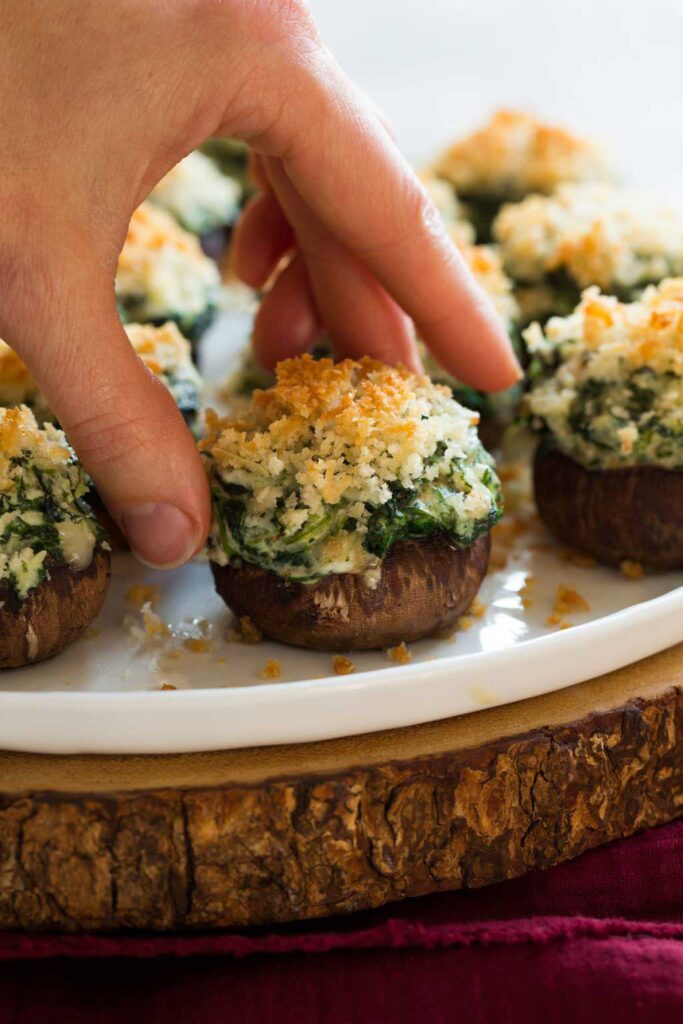 While they cook, consider also cooking an appetizer or even baking some bread – you've got all that heat and smoke already going! A favorite is this spinach and cheese-stuffed Baby Bella mushrooms – put these on when the steaks go on, and you'll have a tasty appetizer after about 20 minutes. Check the bottom of this article for the recipe. The mushrooms only take 20 minutes or so on the grill so they are the perfect appetizer – woodsy, smokey, amazing.
To finish the steaks, take a large cast-iron skillet and preheat it on a gas grill (should this be pellet grill or stove burner) set on medium heat or in a 400-degree oven. Have some fresh sprigs of rosemary and thyme at the ready along with a couple of tablespoons of chopped garlic and a big knob of butter – about a half stick.
When the steaks hit 5 degrees shy of doneness, take them off the pellet grill onto a warmed platter, wrap them in foil to rest for about 15 minutes, and get everything else ready to serve.
When the steaks have rested a bit, toss the knob of butter into the big cast iron skillet, swirl it around while it sizzles and melts, then put the steaks down, pressing them to make sure they get a great sear. After about a minute, put the garlic and the herbs in the pan, and tilting the pan, begin basting them with the buttery, herby, goodness. After another minute, turn them, baste them again for about 2 minutes – then remove them to a warmed serving platter.
You can serve them now with the butter sauce or … kick it up a level … add about a tablespoon of green peppercorns, sauteeing those in the butter for a minute or two, then a shot of cognac, flaming off the alcohol with a match. The final touch is about a ¼ cup of heavy cream whisked in.
Slice the steaks off the big bones, then slice each steak across the grain into about ¼" slices and pour the sauce over. Serve with some classic steakhouse sides like garlic mashed potatoes, sauteed or creamed spinach, roasted asparagus, fresh bread, and a big chewy red wine!